Episodes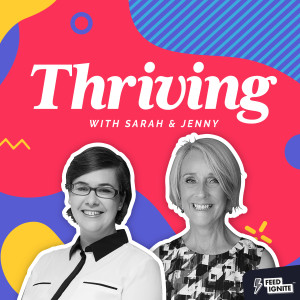 Thursday May 11, 2023
Thursday May 11, 2023
Hello and welcome to the Thriving podcast with Sarah and Jenny.
This week, Sarah takes us on a journey through her non-traditional upbringing in British Columbia, and the valuable lessons she learned about finding happiness in work. She shares how, regardless of the type of job, cultivating joy in our work can have a positive ripple effect on our lives and the world around us. Sarah also stresses the importance of discovering our unique work purpose, separate from our life purpose, as a way to find fulfilment and meaning in our careers, allowing us to make a meaningful impact.
We talk about purpose, leadership, happiness and much more…
Sarah Metcalfe
Website - https://www.happycoffeeconsulting.co.uk
LinkedIn - https://www.linkedin.com/in/sarahmetcalfecambs/?originalSubdomain=uk
Good reads:
Aaron Hurst 'The purpose economy' https://purposeeconomy.com
Liz Wiseman 'Multpliers' 
A Simple Approach to Understanding Your Purpose https://blog.movingworlds.org/understanding-your-purpose/
Mentioned in the show:
Imperative - https://www.imperative.com/movement
Imperative Quiz - https://www.imperative.com/welcoa
Greta Thunberg - https://twitter.com/GretaThunberg/
Anthra Indira Ong - "Imagine a world where you went to work to be filled up with positive energy. If that filled you up, instead of burning you out. And that energy spilled out into your personal life, your family and friends, your community and the wider world around you.' 
The WooHoo Partnership - https://woohoounlimited.com/the-woohoo-partnership/
We'd love it if you subscribe to the show, or join our community on LinkedIn https://www.linkedin.com/company/thriving-with-sarah-jenny/ - but no pressure!