Episodes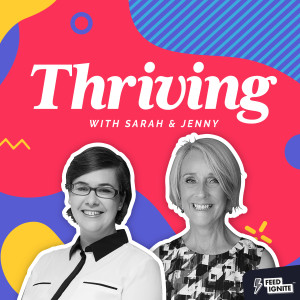 Thursday Jul 06, 2023
Thursday Jul 06, 2023
On this week's episode of Thriving Podcast with Sarah and Jenny, we dive into the state of the global workplace report for 2023 by Gallup. The report, available at Gallup's website (See Below), highlights that 23% of people are currently engaged at work, marking a record high. This positive trend reflects a gradual increase in engagement over the past decade. Is it a figure to be celebrated though?
We also emphasize the significance of improving workplace cultures to foster positive change and combat burnout. We discuss the concept of 'quiet quitting,' where employees remain in their current positions but feel disengaged and dissatisfied, not actively seeking alternative opportunities.
We stress the need for effective management practices and the creation of psychologically safe environments within organizations, because prioritizing employee well-being, providing recognition, and cultivating a supportive atmosphere are key factors in driving productivity and overall success.
For more insights on improving well-being and personal development, be sure to tune in to the next episode of Thriving Podcast with Sarah and Jenny.
References: 
Gallup website: Gallup 
Gallup 2023 report: State of the Global Workplace
Jon Clifton on LinkedIn: Jon Clifton
Tal Ben Shahar on LinkedIn: Tal Ben Shahar
University of Warwick Happiness and Productivity Paper: University of Warwick Happiness and Productivity Paper"

We'd love it if you subscribe to the show, or join our community on LinkedIn, but no pressure! Thriving with Sarah Jenny LinkedIn Page