Episodes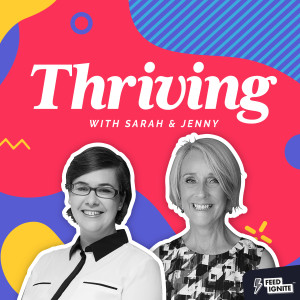 Thursday Jun 22, 2023
Thursday Jun 22, 2023
Hello and welcome to the Thriving podcast with Sarah and Jenny.
In this episode we delve into the topic of personal growth and finding fulfillment in both life and work. Joined by special guest Liz Hamlet, a founder, leadership strategist and business mentor, we explore the transformative power of self-discovery and overcoming challenges. Addressing the broader issues of unhappiness in corporate careers and the increasing number of individuals, particularly women, stepping away from traditional roles. Examining the reasons behind this trend, including changing perspectives on success, self-awareness, and the desire for greater work-life balance. Tune in to this thought-provoking episode to discover how you can not just strive but thrive in both your personal and professional endeavors.
We talk about becoming a rebel, networking, personal growth and much more… 
Liz Hamlet Links:
LinkedIn: https://www.linkedin.com/in/liz-hamlet/
Website: https://www.sparksucceed.co.uk
Website Links: https://www.sparksucceed.co.uk/links
Good Reads:
Matthew Syed 'Rebel Ideas'
Dr. Jenny Brockis 'Thriving Mind'
Mentioned in the Show:
Anti Social Social Club - https://www.antisocialsocialclub.com
Liz Hamlet 'Changes in Opportunity' - https://www.sparksucceed.co.uk/speaking 
We'd love it if you subscribe to the show, or join our community on LinkedIn https://www.linkedin.com/company/thriving-with-sarah-jenny/ - but no pressure!